Something for everyone...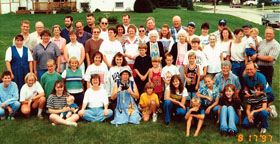 Welcome to the Bevenour Family website, a place designed to be the "what's-what" hub for the whole Bevenour clan. www.bevenour.net. While I am not the best web designer in the world, I have tried to put something usable together for us to be able to share, communicate and plan with one another. If you would like to help out or add something you dont see here, please please please let me know and we can do so! Also, if you would like to add a page here for your family specifically with all your own site pages and content... again let me know and we can add that too!
The point is, this is for us, by us and anything goes. Let's just do it and have some fun in the process!
Photos, Chit-Chat & Calendar
So far the coolest things I've put up here for us to use... the Photo Gallery, the Forum (for chatting) and the Calendar.
With the Photo Gallery, you can browse any of the albums just clicking on them, you can also post comments about the photos. If you would like to Upload photos however, you need to create yourself an account... just click the register button at the top of the page. This is very much the same process for registering on the forums, unfortunatly at this point I dont have it set up to carry the usernames and passwords over from one to the other. I am working on it, just not there yet, so for the time being you will have to register twice... once at both places.
As for the calendar, I'm still having a few issues setting it up and at this point I'm not sure if I'll continue to use this one or go with something else all together. So for right now, I'll just kind of leave this one as a question mark, and update this page when its ready.
Note: This is a website for the Bevenour and extended family. All personal user information is kept in password protected access areas of this site. If you would like to access these areas, please register first. All registrations will be personally looked at by the admin of this site, if you create a username that is not clear as to your real identity, please be sure to make note of yor real name as I will not approve access to unknown users.